GARDENIA ALLOCATES RM1MIL FOR COVID-19 AID PROGRAMME
B40 Families, Front Liners and University Students Among Recipients of Gardenia Aid Programme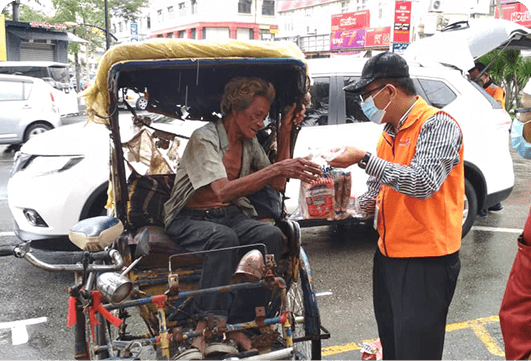 Shah Alam, Malaysia, 23 April 2020 – Gardenia Bakeries (KL) Sdn Bhd (GBKL) has allocated more than RM1 million in aid to the community during and post the Movement Control Order (MCO) period. The aid, in the form of Gardenia products, is being distributed throughout Peninsular Malaysia to B40 households, front liners and students under the Varsity Food Bank programme.
"We know the challenges people are facing due to the circumstances of the Covid-19 crisis. Households and individuals relying on daily wages have been experiencing much hardship during this difficult time. Our wish is to relieve some of the burden of those struggling to put food on the table as a result of the circumstances from the outbreak," said GBKL CEO, Koh Chin Huat.
During Phase 1 of the MCO, GBKL contributed over 23,500 Gardenia products, valued at approximately RM40,000, to help B40 families, front liners battling the outbreak and university students relying on the Varsity Food Bank Programme.
"Gardenia appreciates the dedication of our front liners, both medical and public security personnel, who are working tirelessly to treat and protect the Rakyat. We also recognise the plight of students from financially challenged backgrounds who are confined to campus and wish to help alleviate some of the hardship they are facing during this period," Koh explained.
Understanding the struggle of daily wage earners due to the MCO during the Covid-19 outbreak, GBKL began the second round of gift pack deliveries to more identified B40 households on 13 April. Working with the Department of Social Welfare (JKMM), Gardenia's delivery of its gift packs over a three-week period, until 4 May, will reach a total of 13,000 B40 households in Peninsular Malaysia. Each gift pack contains a loaf of Gardenia's Original Classic bread, a tub of Auntie Rosie's Original Homestyle Kaya and two packets of Delicia Toaster Waffles.
During Phase 2 of the MCO, GBKL has allocated more than 13,000 loaves of its Original Classic bread, 13,000 tubs of Kaya and 26,000 packets of Toaster Waffles amounting to 54,000 products valued at RM108,000 specifically for households in the B40 category.
A company with strong ties to the community, and fully aware of the hardship faced by those who have lost their income, GBKL has also distributed cash and its gift packs to affected families living in areas close to its premises.
"The nation has been rallying together by staying at home in accordance to the MCO to contain the Covid-19 outbreak since March 18. The entire team at GBKL is in this together with our fellow Malaysians, and amid this challenging period, Gardenia is committed to consistently produce and deliver our products daily to supermarkets and other outlets as usual. We also hope that our RM1million aid programme will offer some comfort to those in greatest need," Koh said.
Koh urged all consumers to remain calm and buy according to the household's normal needs and daily consumption. He also thanked consumers for their cooperation and continued support of Gardenia.
For more information, the public can also contact GBKL via customer_service@gardenia.com.my