NuMee Gardenia
A better and healthier version of Malaysia's favourite and staple yellow noodle - NuMee unites family members who enjoy a great noodle dish be it stir fried or with a soup base. Made with great care, this yellow noodle is made with no colouring. The natural yellow colour is achieved through a natural process when flour and salt are combined - making the ONLY brand with reduced taste and smell of alkaline without the use of Boric Acid!
More on NuMee Gardenia...
Variant: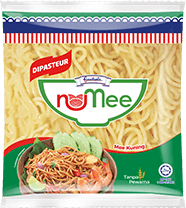 NuMee 450g
Malaysia's first pasteurised yellow noodle made with high quality ingredients. It undergoes a pasteurisation process making it longer-lasting, clean, safe and ready to cook. NuMee 450g is perfect for your delicious everyday meals.
Price: 450g at RM1.70
NuMee Keluarga 900g
NuMee Keluarga is a non-pasteurised noodle that gives you an economical option, suitable for a big family and even for catering purposes.
Price: 900g at RM2.50