PUAZZ!
It is an understatement when we say all Malaysians love their food with a little zing of spiciness. That is what inspired the birth of Malaysia's favourite savoury buns range delivering Beyond Satisfaction in a Bite.
Sememangnya Puazz!
Variant: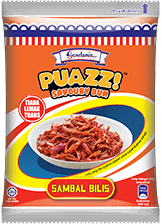 Sambal Bilis
Our beloved Sambal Bilis is known for having the perfect blend of spicy and sweet! Perfect for moments when you are looking for something savoury yet convenient.
Price: 60g at RM1.60
Sambal Mackerel
The exquisite combination of spices with the right amount of heat which truly represents the mind -blowing taste of our Sambal Mackerel filling. Beyond Satisfaction in a bite!
Price: 90g at RM2.60
Kari Ayam
Craving for savoury satisfaction? The taste of our Curried Chicken filling made to perfection is just so good. It is definitely as its tagline claims; Sememangnya Puazz!
Price: 90g at RM2.60