Gardenia Original Classic
Gardenia Original Classic white bread has been enjoyed by Malaysians since 1986. Freshly baked and delivered daily, this soft and fluffy white bread is made from unbleached high protein flour with added vitamin A and E, iron and is a source of protein. That is why Gardenia Original Classic became the daily constant in the life of every household. Savoury or sweet - it's so versatile, so good... you can even eat it on its own!
Variant: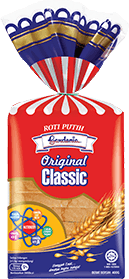 Original Classic
Enriched with the goodness of Nutrinegy™, Gardenia Original Classic 400g is the all-time favourite white bread of many Malaysian families.
Price: 400g at RM3.00

Original Classic Jumbo
There's nothing more satisfying than a pack of Original Classic Jumbo that is perfect for breakfast or any time of the day. Just nice for your whole family.
Price: 600g at RM4.30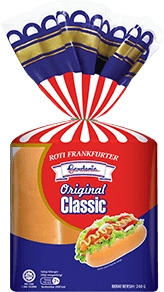 Original Classic Roti Frankfurter
Great for making sandwiches, sausages and even 'Roti John'! Its soft and fluffy texture makes it a great option to go with anything you like.
Price: 240g at RM2.90