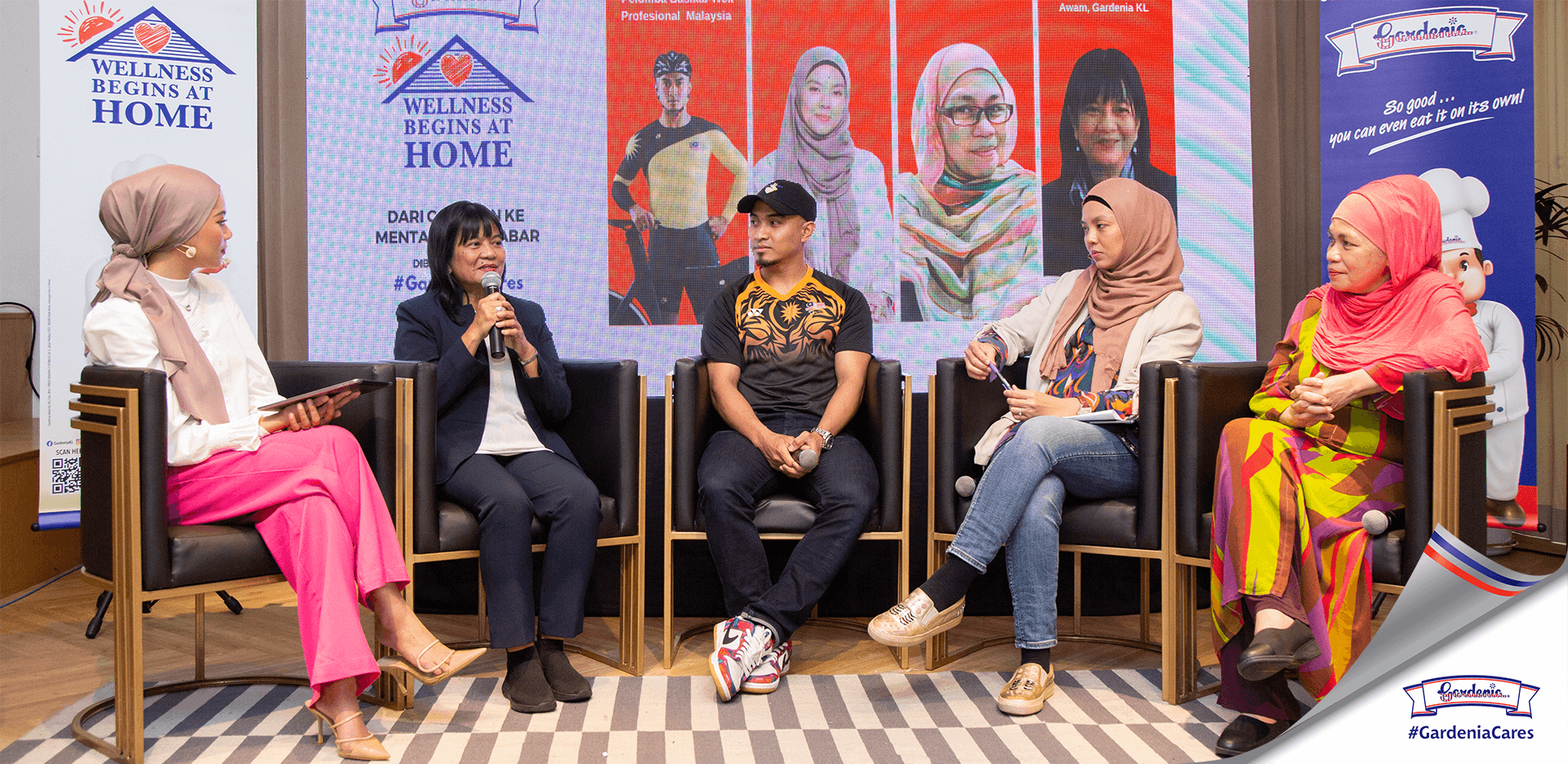 GARDENIA KL WELLNESS BEGINS AT HOME 2023
EMPOWERS MALAYSIANS TO MOVE FROM 'CHALLENGES TO A CHALLENGER MENTALITY'
Gardenia KL Survey and Conversation Explore Link Between Social Media, Family Unit And Mental Health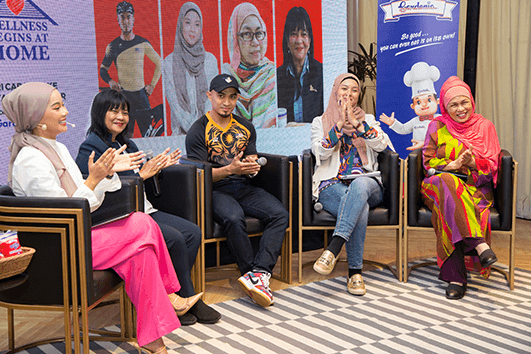 Gardenia KL Wellness Begins At Home 2023 discussed real life challenges and practical ways to improve mental wellbeing. The panel comprised of (second from left), Gardenia Bakeries KL, General Manager, Corporate Affairs and Public Relations, Hazlinah Harun; Malaysian Professional Track Cyclist, Dato' Azizulhasni Awang; MIASA President, Anita Abu Bakar; and We & I Art Founder, Zuraini Anuar.
Shah Alam, 12 May 2023 – Challenges are part of life. They occur as early as one's childhood and while critical to one's growth, challenges can cause unresolved distress which influence mental health later in life. Gardenia Bakeries KL (Gardenia KL), in collaboration with SOSCILI recently ran its 'Kalis Koyak' survey and found a correlation between challenges and how they shape the behaviour and mental health of Malaysians.
"This is the second edition of Gardenia KL Wellness Begins At Home, and we are continuing our focus on mental wellness, especially in the home. As a household brand, Gardenia cares and believes in the importance of the family unit as the foundation of a community. We are pleased to continue providing a platform like our Gardenia Kl Wellness Begins At Home 2023 panel discussion. With the help of thought leaders, we are passionate about highlighting key matters on mental health and help equip Malaysians with the knowledge to overcome challenging times," explained Gardenia KL General Manager, Corporate Affairs and Public Relations, Hazlinah Harun.
Listen to the survey presentation and panel discussion on @GardeniaKL Facebook here or Youtube
The survey drew responses from Selangor, Kuala Lumpur, Putrajaya and Penang, from a total of 1,020 respondents, ranging from Malaysians aged from 17 to 56 years and above. The respondents comprised a mix of single individuals and married couples, with and without children.
Are Malaysians happy?
Asked if they were happy, only 19.1% respondents said they felt happy, while 40.3% felt they were still working towards achieving happiness. 35% of respondents said that they were satisfied with their situations but were not happy, while 5.7% were unhappy.
Internalising challenges
Top responses in the survey indicated a connection between challenges and mental wellness. When facing challenges, respondents said they experienced loss of self-confidence (57.7%), feeling like a failure (56.3%), feeling lonely with no one to turn to (51.8%), loss of life's purpose and direction (50.4%) and deterioration of mental health (42.7%). Other worrying behavioural traits respondents shared in the face of challenges included being more hot-tempered (38.2%), self-harm and suicide ideation (27%) and financial desperation (25.6%).
Strength in numbers and families
In the survey, family units and support systems were key points highlighted by respondents coping with challenging times. Married respondents with families were more likely to turn to God in the face of adversity (58.2% married vs 43.5% unmarried respondents) and rely on help from family (21.2% married vs 15.7% unmarried respondents). They were also less likely to rely on adverse coping mechanism such as self-harming, smoking, vaping or alcohol.
On the other hand, younger respondents aged 21 to 25 years were more likely to favour coping mechanisms such as overeating (39.5% vs 23.7% from other age categories), sharing their plight with anyone who would listen (37.2% vs 25.8% from other age categories), retail therapy (18.6% vs 10% from other age categories), and self-harming (14.7% vs 9% from other age categories).
If you or someone you know is experiencing a mental health crisis, please reach out to MIASA via www.miasa.org.my which offers mental health assessment and consultation, counselling services, spiritual therapy, therapeutic assessment, psychological services, and peer support. Alternatively, contact the MIASA 24-hour helpline at 1-800-820-066.
Behaviour tendencies of men and women
Observations on behaviour by gender through the survey found men (8.7%) were more likely to turn to addictions to cope with challenges in contrast to women (3.2%). In terms of remedying challenging situations, men were more likely to develop a detailed plan to address their situation (21.7% men vs 12.6% women), while women were more likely to choose ways to relax or go on a vacation to cope (34.2% women vs 25% men).
Social media affecting mental health of young people?
When asked how respondents felt reading posts about their friends' successes on social media, 32.3% of responses indicated respondents felt happy for their friend's success. However, 23% of responses still indicated respondents felt demotivated by their situation in comparison.
Furthermore, respondents in the 26-to-30-year-old age category were more likely to feel depressed when they saw their peers post about their lives on social media compared to other groups (32% vs 23% in other age groups). Respondents who were facing financial-related challenges were found to be more likely to avoid social media (average of 17.7% dealing with financial challenges vs 9.1% from other challenges).
Malaysians more avoidant or passive in facing challenges
The survey observed that in the face of adversity, only a small portion (11.3%) of respondents stated they sought professional help, while only 22.1% realised they needed help. In the survey, a vast majority of respondents leaned towards a passive approach in weathering challenges. Popular responses included hoping for challenges to blow over one day (49.4%), turning to God (43.5%), and avoiding thinking about the problem (40.5%). These indicate a general preference for passive 'wait and see' approaches to challenges among respondents.
Glass half full, half empty mindset
Respondents with a 'glass half full' perspective leaned towards positive learnings from challenges. For example, 53% of respondents said they gained a new perspective on life, 33.9% said they became more tolerant, while 21.6% felt the challenges brought them closer to God.
Meanwhile, respondents negatively affected by challenges felt they developed trust issues towards others (40.7%), were experiencing anxiety depression or post-traumatic stress disorder (PTSD) (31.5%). Interestingly, respondents aged 21 to 25 years in the survey presented a higher likeliness to develop trust issues and PTSD. Other responses included (18.6%) respondents feeling they were merely surviving through life, (14.5%) felt they gained weight from coping through possibly overeating, and (10.3%) blocked out memories of trauma.
In summary, the survey showed that Malaysians are increasingly aware about their mental health and recognised that achieving happiness is a process. This was evident as 51.1% of respondents shared that they were still in the process of dealing with their challenges and understood that it was a long process.
Findings from the Gardenia 'Wellness Begins at Home 2023' Survey were discussed over a live forum hosted on GardeniaKL's Facebook with national track cyclist and Tokyo 2020 Olympic silver medallist, Datuk Azizulhasni Awang; Mental Illness Awareness and Support Association (MIASA) President, Anita Abu Bakar; We & I Art Founder, Zuraini Anuar; and Gardenia Bakeries KL General Manager, Corporate Affairs and Public Relations, Hazlinah Harun.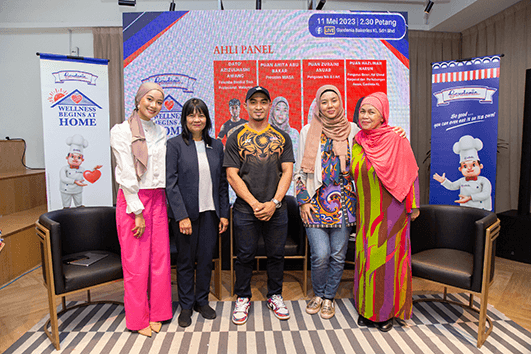 Visit @GardeniaKL's Facebook (https://fb.watch/ksjwz0BfvR/?mibextid=cr9u03) and Youtube (https://www.youtube.com/live/5Me7XdFwl8g?feature=share) to catch the Gardenia 'Wellness Begins at Home' discussion.
GARDENIA KL WELLNESS BEGINS AT HOME 2023 ARTICLES