GARDENIA PLEDGES OVER RM80,000 IN AID TO VARSITY FOOD BANK IN CONJUNCTION WITH WORLD BREAD DAY
Contributions To Food Bank Aims To Assist Students In Need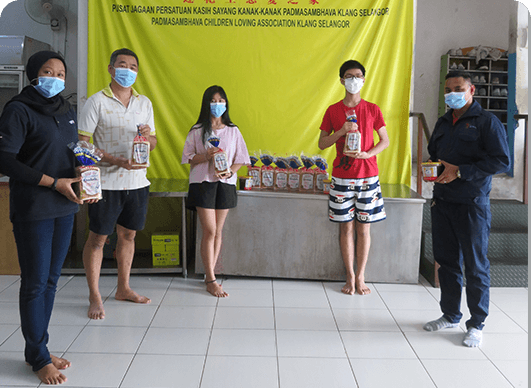 Kuantan, Pahang, 16 October 2019 – Celebrating bread in its simplicity and ability to nourish households, Gardenia Bakeries (KL) Sdn Bhd (Gardenia) commemorated World Bread Day by pledging over RM80,000 in aid to support varsity students in need through the Food Bank Siswa programme under the Yayasan Food Bank Malaysia (YFBM).
"Today, we celebrate World Bread Day in a meaningful way by working hand-in-hand with the Food Bank Siswa programme to drive an important cause; helping varsity students in need by providing access to wholesome Gardenia products," said Gardenia Bakeries (KL) Sdn Bhd General Manager, Marketing / Public Relations, Hazlinah Harun, at the launch of the Food Bank Siswa programme at Universiti Malaysia Pahang (UMP) in Pekan, Pahang.
The World Bread Day celebration coincided with the launch of the food bank programme at UMP recently which was officiated by Minister of Domestic Trade and Consumer Affairs, Datuk Seri Saifuddin Nasution Ismail. The Food Bank Siswa programme was formed after the successful implementation of the Food Bank Malaysia programme mooted by the Ministry of Domestic Trade and Consumer Affairs.
In conjunction with World Bread Day celebrated on 16 October, Gardenia organised a host of activities and contributed 1,000 individual packs of Toast'em Butter Raisin and Delicia Raspberry bread for the students of UMP to savour. 500 students under the Food Bank Siswa programme also received Gardenia goody bags following the launch of the food bank in UMP.
Extending the celebration to benefit more students in need, Gardenia is also working with YFBM to identify a university in order to complement its food bank pantry with a variety of goods including Gardenia Original Classic bread, Auntie Rosie's Natural Kaya, Say Cheese Rolls, Delicia Cream Rolls, Fluffy Buns, Sambal Bilis Buns, Butter Toffee Soft Rolls, and Red Bean Buns interchangeably for a period of 40 weeks. The food items will be freshly delivered by Gardenia to the university's food bank on a weekly basis and is expected to benefit about 1,000 students in need.
Speaking on the importance of quality food for the youth to thrive, Hazlinah said, "Gardenia's food products are made fresh and delivered to the food bank directly from our bakeries. When quality and consistency is concerned, Gardenia's commitment to the food bank programme is backed by a solid track record of delivering fresh products, 365 days a year, come rain or shine."
In addition to UMP, Gardenia has also contributed its bread products to Universiti Malaysia Perlis, Universiti Sains Malaysia and Universiti Utara Malaysia's food bank recipients bringing the total value of aid to over RM80,000. Gardenia has been actively involved in charitable causes throughout the years. Every day, Gardenia delivers complimentary fresh bread to over 65 charitable organisations such as old folks homes, orphanages, centres and schools for the differently abled, eight of which have been on Gardenia's delivery list since 1991.
Gardenia began its World Bread Day celebrations in 2018 by engaging consumers in a campaign to support 20 charitable organisations. As part of the campaign, for every one loaf purchased, Gardenia pledged 10 loaves of bread to charitable causes. 20,000 loaves were donated to 20 homes at the end of the campaign. This year, Gardenia continues its tradition with varsity students from financially challenged backgrounds through the Food Bank Siswa programme.